With the weather up here in the North taking a turn for the worse and making indoor photographs difficult, now seems the best time to start mixing it up on the blog. I'll be splicing up my reviews with posts about some indie designers and brands I'm currently fawning over (and are easier to photograph outdoors). First up, Sasha Louise Latex.
Hailing from the UK but now residing in Berlin, Sasha studied at the London College of Fashion. Her pieces border the line between fashion and fetish wear and are really rather wonderful. Handmade from Glyde-tex, an easy on latex, wearing these pieces is much easier than regular latex, with no need for dressing aids. Her designs have been worn by the likes of Lady Gaga, Miley Cyrus and Grimes and shot for numerous fashion editorials.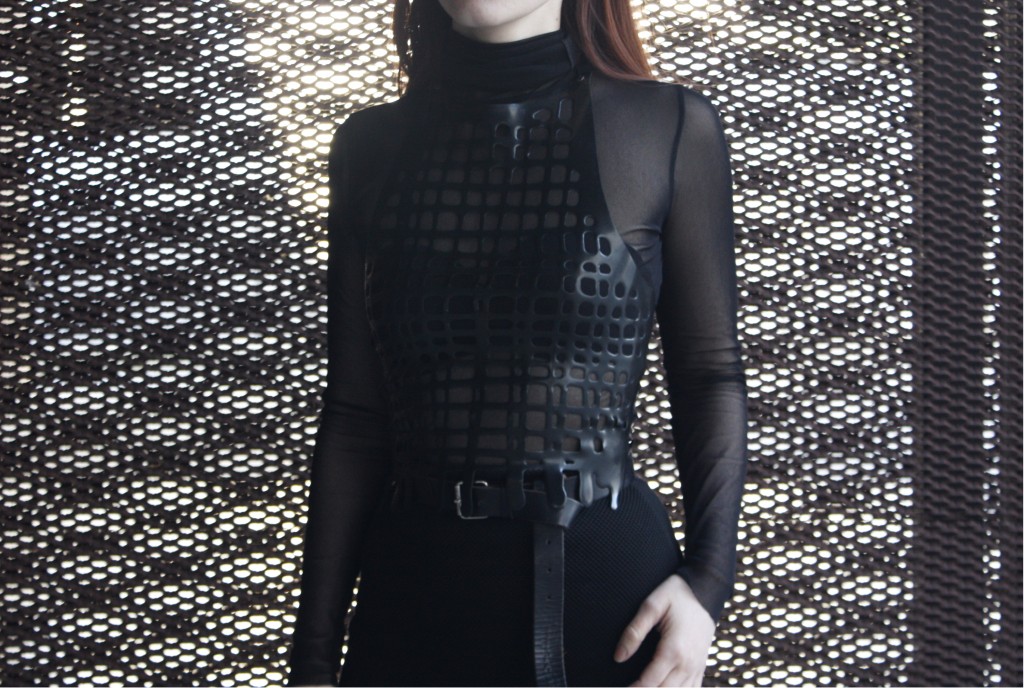 As with every new brand I try, I always buy the smallest and cheaper piece that is on my wishlist, just incase everything goes tits up. Luckily ordering with Sasha went rather smoothly and I ended up with a great design. It took roughly about a month for me to receive my piece, which is pretty much the standard wait from made to order brands. I ordered in size 8 despite the size 6 being more akin to my measurement to allow for layering. The neck is a little bit big for me in this size but over all if fits perfectly well. When it comes to day time dressing it's all black always for me, meaning I rely heavily on texture and shapes to keep things looking interesting and this latex piece really does make things look interesting. I love the shape of the net halter and the grid effect means this piece is completely breathable and a joy to wear. I've worn this piece several times layered over various mesh items for full and busy days and it's extremely comfortable. I am very much smitten with Sasha's work and fully intend to go back for some other items on my wishlist.
You can buy Sasha Louise's pieces directly through her site (which has the bigger selection and her men's wear collection) or via Asos Market place.
P.s thank to D. for helping with the photos.
Instagram // Twitter // Pinterest // Bloglovin'