Edge o'Beyond are a relatively young brand, having only been established in 2013. Combining beautiful lingerie with fine jewellery to create bodily works of art, the brand are doing their bit to help revive the dying manufacturing trade in the UK by sourcing all of their materials in Europe before hand making each item here on British soil. After seeing a sneak peak of the Louisa set pop up on Instagram earlier in the year, I had been waiting rather impatiently to get my hands on it. An aesthetically pleasing mix of delicacy and architectural structure, it's like Edge o'Beyond took everything I like and put it together in one visually stunning set.
Boasting 22 different bra sizes, ranging from a 30B to 36DD and I went with my preferred size of 30C (I have a 28″ underbust but finding a 28 back size is rather difficult) and XS high waisted brief. My items arrived individually wrapped in tissue and tied with a yellow bow, a copy of their look book and a hand written note on the back of a post card thanking me for my order. Little touches like this are always lovely and it actually feels like the company genuinely appreciate your support.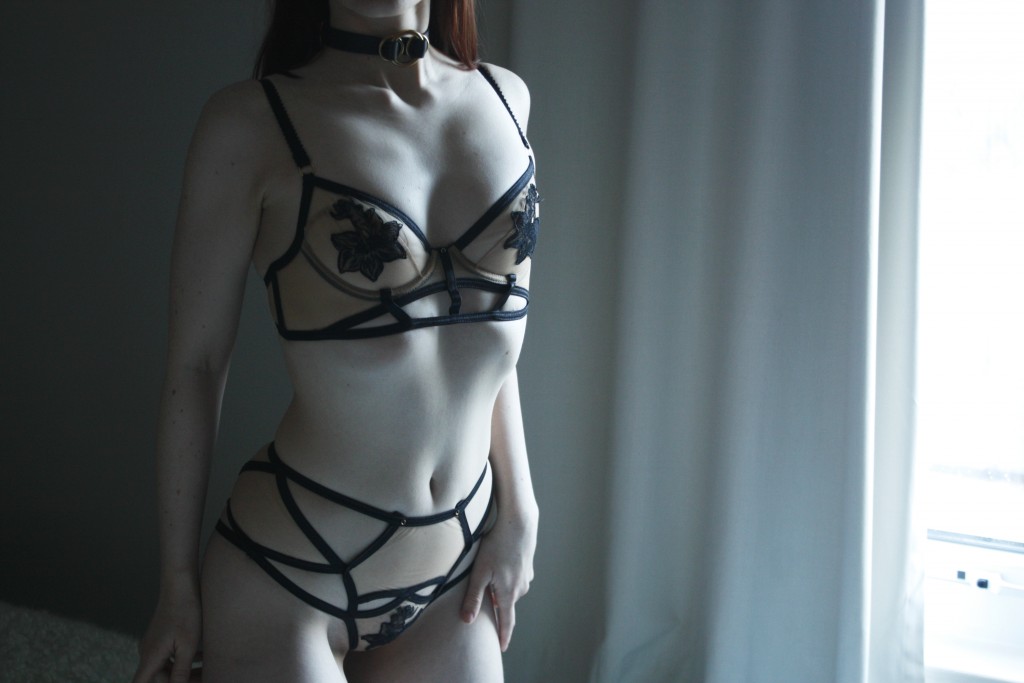 The bra is a long line, underwired style with cutouts over the front of the ribcage. The two piece cups are made from a fine beige tulle which is double layered. Each cup has a French lace cherub (with wonderfully grumpy faces) appliquéd on to it for "modesty". In contrast to the delicate tulle, a black satin elastic is used to create structure. The tulle is akin to that used on Agent Provocateurs Demelza but with very little stretch. Due to the lack of give, it means the band fits me rather snuggly and is almost the perfect fit. This style has three sets of hooks and eyes and I can only get mine as a far as the middle hook. No other bra I have, even in a 30C fits this snug and as a lover of a snug band, this is perfect for me. As I have very little flesh covering my rib cage, it does mean that the satin elastic in the cut out band does not lie flush against my body (the bridge does, just not the cutouts). This means as I move throughout the day the cutout section rides up. It's not uncomfortable in any way, I just imagine that if my ribs were a little more padded it would stay in place. The cups give me a slight lift and rounds out my shape, which is what I personally prefer. Sometimes this cup shape can give me the "orange in a cup" effect (looking at you AP) but the binding along the top of this cup lies smoothly against my chest.
The matching high waisted briefs are made from a mix of single layered tulle panels and the same black satin elastic to create a caged style. Another grumpy cherub is appliquéd onto the bottom panel that covers the mons pubis and completed with a jersey gusset. Similar to the Karen knickers by Hopeless, this style has an adjustable waist, with slider strap and fastening at the back allowing for the perfect fit. They are wonderfully comfy and the adjustable waist means you can alter the fit through out the day to avoid cutting in.
Each piece also has Edge o'Beyonds signature o-rings sewn onto the front and sides so that you can customise your set by clipping on the brands complimentary body jewellery. For these pictures I decided to accessories a little chunkier. My choker is made by the lovely Tamzin Lillywhite, who was kind enough to let D. and I come up to her studio when she was knee deep in fluff and poke through her samples the day before the actual sale itself. Another made in the UK brand, it was great to actually meet the designer and actually interact with who you are supporting. I picked up this choker which was on my wishlist along side a patent harness, both of which beautifully made. Really need that matching belt now.
Instagram // Twitter // Pinterest // Bloglovin'