The December blues have hit me hard this year. Dull, dark weather and bitter frosts has made getting up and leaving the comfort of my bed somewhat difficult. Combined with a onslaught of bad news and all I want to do is curl up somewhere cosy, immerse myself in my favourite Podcasts and dream of sunnier climes.
It's at times like this that I find myself riffling through my lingerie drawer for something that is simple, comfortable and comforting to wear. As a result this set from la fille d'O has seen it's fair share of wear over the last few weeks.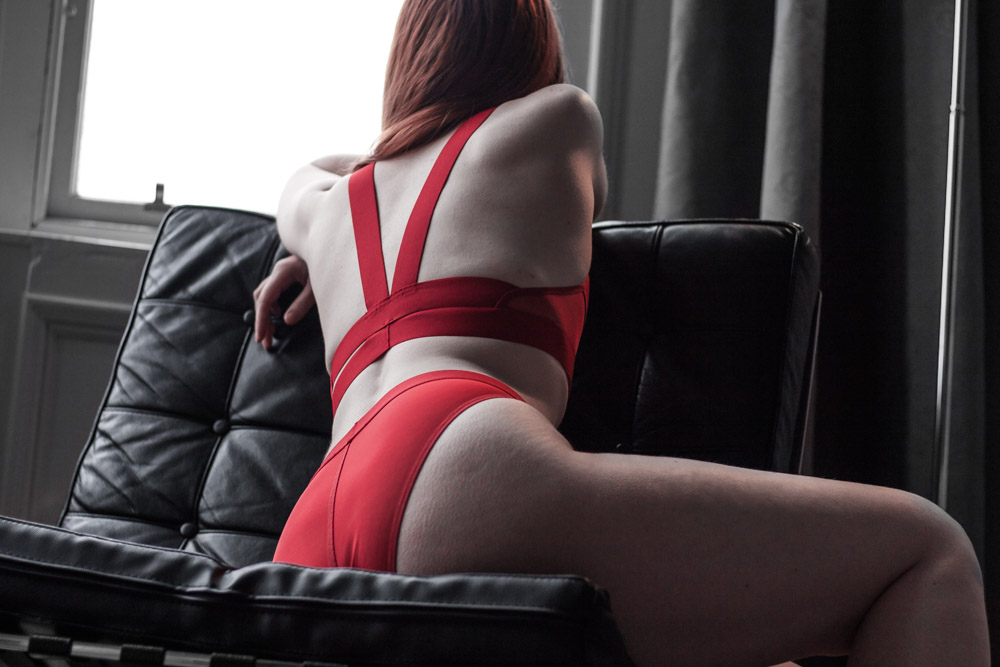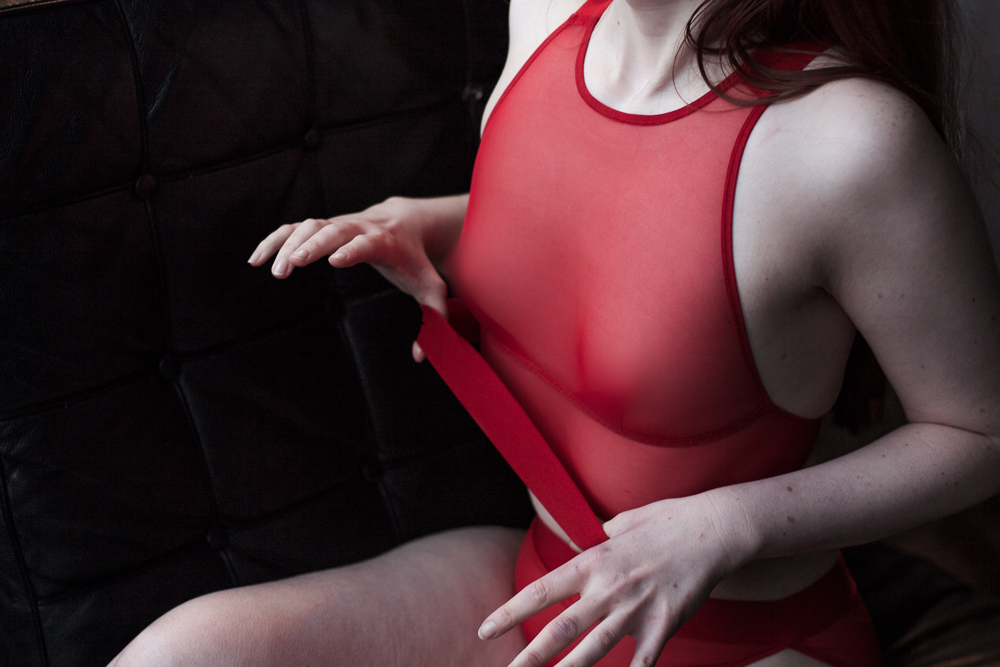 When the "Just Like Arcadia" collection came out, I lost my shit. Sheer fabric, minimal structured designs and all made in my favourite shade of red, it was like this collection had been designed specifically for me. While I'd quite like to own everything from it, realistically I could really only afford two pieces, thanks to the terrible pound to euro conversion (thanks Brexit, ya bastard).
Made from soft tulle and plush elastic, Patient is described as being a high neck, wireless bra. I purchased it in the size 1, which is designed to fit a UK 6. It must be noted that this bra offers very little support, even for my petite size. It's kind of like wearing a mesh crop top. However, it is perfect for days when I want to wear something that gives me coverage but feels like a second skin. It is incredibly comfortable I adore this halter look on me. Thanks to it's shape and bold strap detailing, this style is also perfect for layering and wearing as outerwear, which is always a win in my books.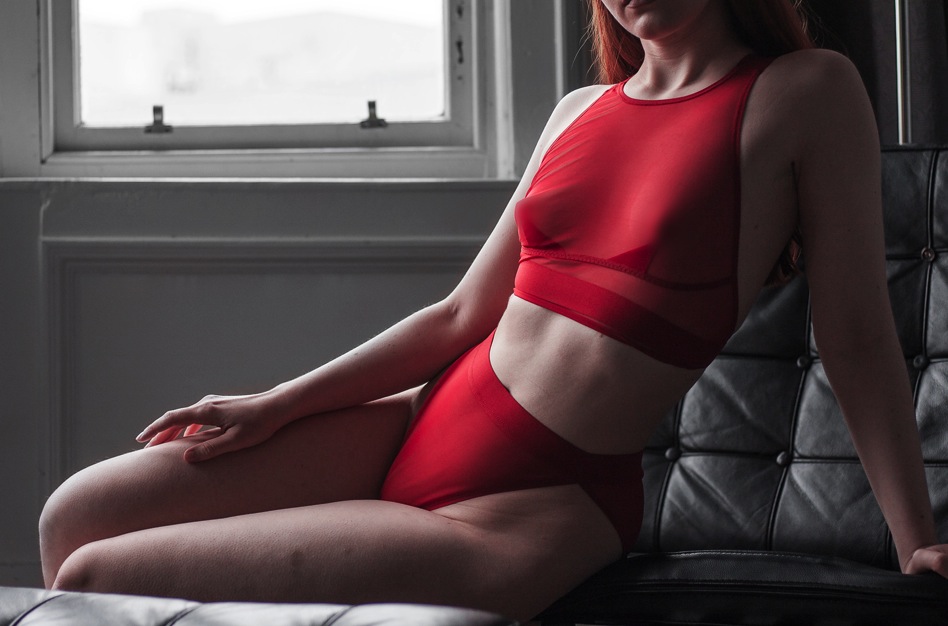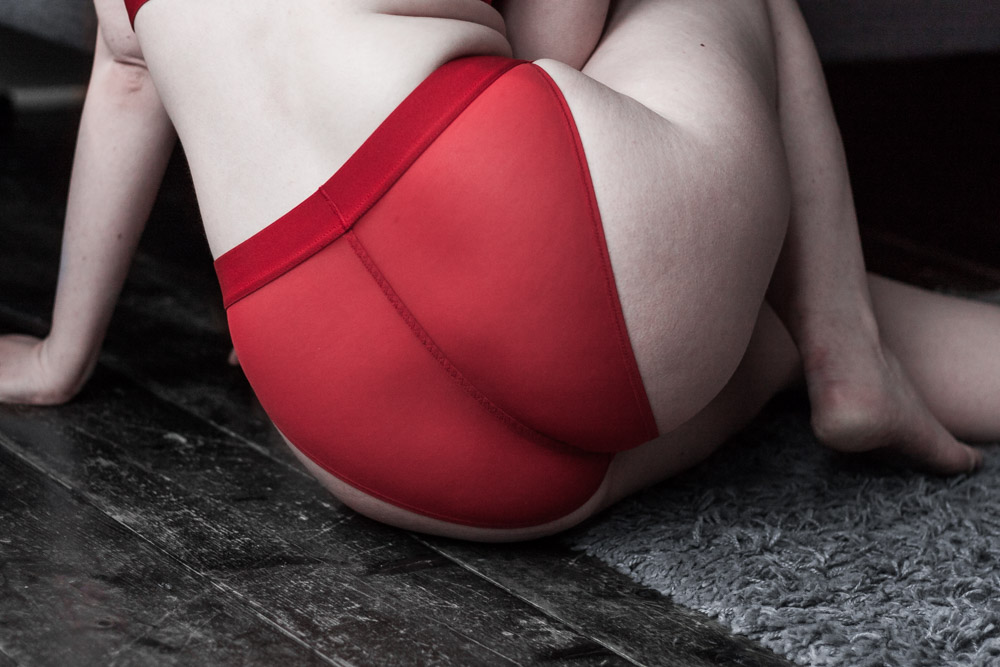 Way I Walk is an ultra high legged brief that exposes the hip and cinches the waist. Also made from tulle, with a plush elastic waistband and back seam, this brief is not only comfortable but gives excellent side booty. I decided to size up to a size 2 (UK8) in the briefs, after purchasing Super Us in a size 1. I didn't like how the strappy style of Super Us cut into my soft hips and I really wish I had size up for that particular style. Although, I do think I could have gotten away with the size 1 in Way I Walk. Sizing up has caused the gusset to be too long for me and this means the brief can sometimes bunch up when I'm moving around. So the lesson I have learned from this is that la fille d'O briefs that are low and strappy are better in the size 2. High waisted full brief styles are better in size 1. This is personal to me but it's worth noting that if you have soft hips or are pear shaped like I am and don't like the look of briefs cutting into this softness, the size up may be the better option. However it's all down to personal taste, you do you. I still love wearing them regardless.
Now if someone could either sort out the exchange rate to be in the pounds favour or just give me a load of money so I can fill my drawer with more sheer, ruby goodness from la fille d'O, that would be great. Ta.
Instagram // Twitter // Pinterest // Bloglovin'