One of the best things about working my way into the lingerie blogging community and making friends with those who are like minded is that everyone always knows where the bargains are. Thanks to the eagle eyes of my girl D, I managed to score this entire Agent Provocateur Annoushka set in white, brand new, unworn and all in a size 2 for an absolute steal on eBay. The entire lot was being punted off for less than the cost of the bra its self. Considering to purchase the whole set at once would cost £470, it's the bargain of the year!
The set is made out of a beautiful and delicate Leavers lace, which is a touch more cream in colour than the product photos on the site suggest. The shape of the bra is influenced by 70s halter necks and is an underwired full cup with removable straps. It clasps at the collar and is fully adjustable. This bra is so flattering on a smaller bust. It won't round out your shape, the lace is too delicate but the shape you get it still lovely and when I put it on I feel very feminine, which is unusual feeling for me, as I normally want to feel powerful. Personally, I think this style looks a little better on smaller bust, as the lace and collar can get dragged down with the weight of a heavier bust, however a fuller bust will find that they get a nice rounded shape due to this extra weight on the fabric. Either way it's a gorgeous bra and regardless of size it's a showstopper, a great layering piece and all sizes should consider adding it to their lingerie collection.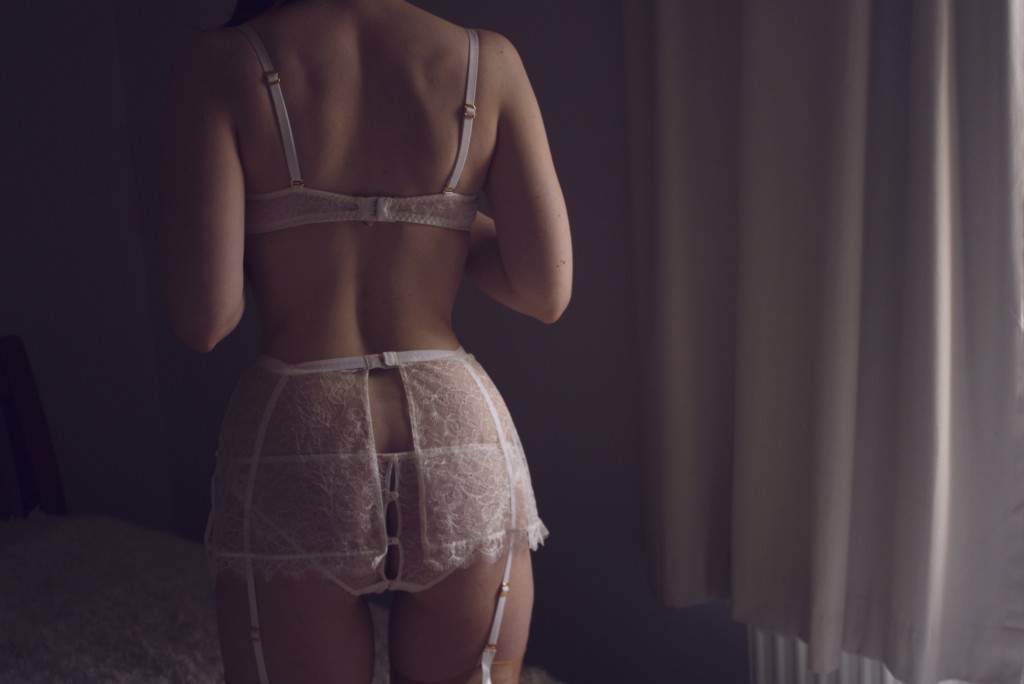 The suspender seems to have been designed for looks and not function. It's essentially a soft elastic waistband with four suspender straps and it does a bum job of holding stockings up. It's not very sturdy and the waist band pulls down if you tighten your straps to hold your stockings up, as you can see in my pictures. For me the waist band was a little big but I'm not sure that if it was any smaller it would function any better. Finish wise, they've chosen to leave the elastic exposed and I think it would look much nicer if the zig-zag stitch had been covered with more of the decorative edging lace used on the neckline of the bra. Leaving the elastic bare cheapens the overall look, which offsets the addition of the buttons on the side, which I imagine is to add the feeling of a luxury finish, as well as complimenting the knickers. Essentially, this suspender is for a short wear in the bedroom before being whipped off and if it wasn't for the fact that it was practically free I wouldn't have bothered purchasing it. If you do want to try and make it work for day wear, hold ups instead of stocking are a must.
The knickers on the other hand are much more successful. They are a low rise ouvert and fully button all the way from the waist band at the front to the waist band at the back. They look incredibly pretty and feminine. I haven't yet worn them for an extended period of time (the lace is too delicate for wearing out and about when I'll just stick a pair of tights on over the top) but I'm hoping they won't be like the Jenna ouvert knicker that likes to open on it's own. At least the Annoushka knicker has buttons and not metals clasps, so I won't end up getting nipped while wearing.
Overall I'm happy with the bra and knicker, the suspender is just a nice freebie and probably not worth the dolla unless you can get it on sale or if money is no object. It is on the pricier as far as lingerie goes but this bra is definitely worth saving for and teaming with complimentary knickers you already own. It's a real show piece and easy to layer into outfits, making it more value for money.
Instagram // Twitter // Pinterest // Bloglovin'