A little fact about me is that I am absolutely nature obsessed. As a wee tomboy I rather enjoyed capturing a variety of mini beasts in plastic bottles so I could bring them indoors and examine them (occasionally they would escape, much to my mothers annoyance). I had been itching to show my support and purchase something from UK based designer Karolina Laskowska for a while but with so much choice and with the option for a possible bespoke set, I could never settle on what I wanted. Then the delightful Miód set was released on preorder. With it's delicate little bee charms it tapped into that insect loving child that still resides within me and thus became my very first set.
I ordered the bralet and brief in a size small (UK 8) along side the choker and much to my surprise the matching harness also arrived. Naturally, as there was no explanation as to why it was there, I assumed there had been a mix up and sent Karolina a panicked message. Maybe I'm too honest and guilty by nature but as Karolina runs a small independent business I couldn't bring myself to keep an item that wasn't meant for me and possibly leave her out of pocket. Luckily for me it was in fact destined to be mine, as Karolina added it to my order as a thank you for ordering the full set. This was incredibly sweet and generous of her and reaffirms why I wish to show my support small brands as they genuinely appreciate it.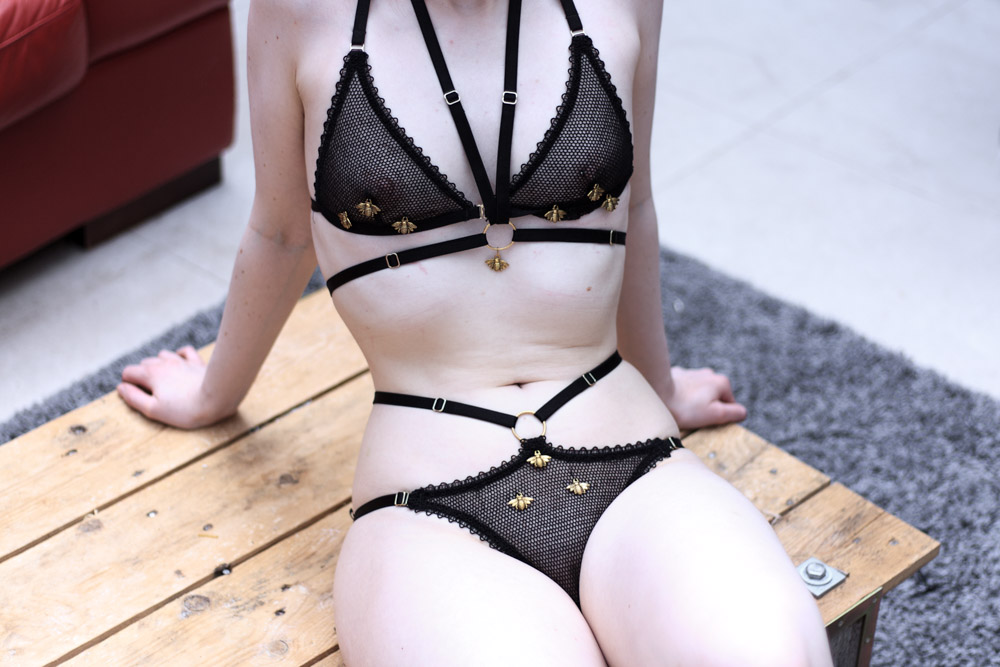 The bralet is a triangle style, that fastens in the front with a gold toned swan hook. The cups are made from an English hexagonal cotton bobbinet tulle and are trimmed with a frilled elastic. Four fully adjustable satin elastic straps with gold sliders reach around the shoulders and underbust to join together on a gold plated o-ring in the middle of the shoulder blades. Three delicate gold bees decorate the cup across the bust point. While it's not the softest fabric, the honeycomb-esque tulle is incredibly comfortable, as well as being lovely to look at. In the item description on Karolina's site, she explains the machines used to make the tulle are antique and must be threaded and tensioned entirely by hand. The use of this fabric in her design really make it feel special. Due to being shallow busted, the cup is a teeny tiny bit too deep for me but with the adjustable straps I can tighten it up enough to fit well. While I personally prefer a rounded shape, I've never met a triangle bra that truly rounds out my shape and I wasn't expecting anything different. I'm please with how it looks on and it works with my natural shape under loose clothing.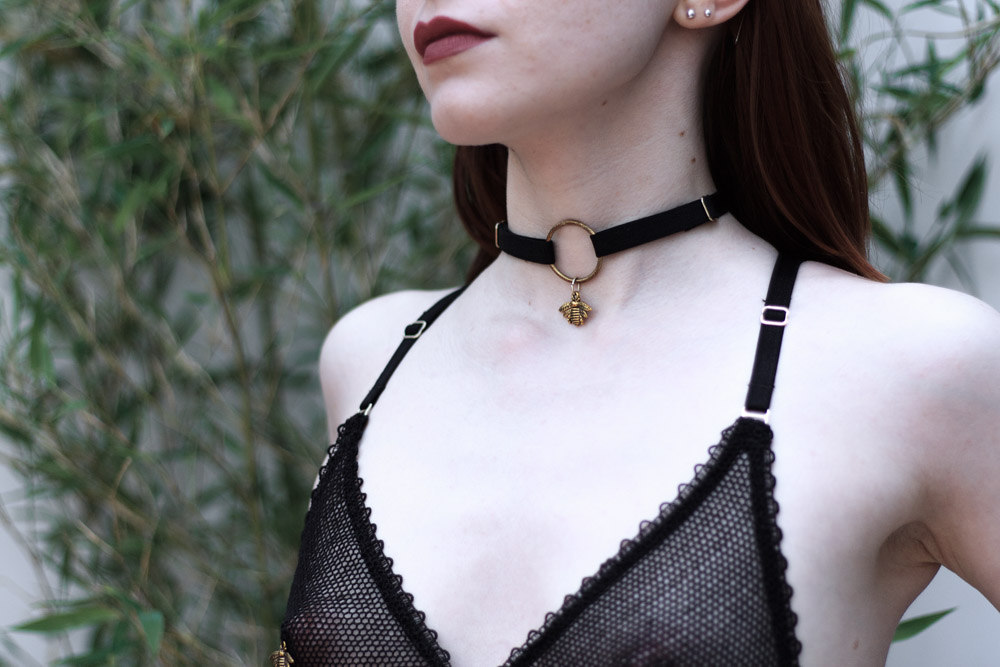 The Miód choker is made from the same satin elastic, with two gold sliders on either side of another golden o-ring. Another little bee hangs from this and sits perfectly in my suprasternal notch. A swan hook allows for the choker to be fastened at the back of the neck. As someone who loves a choker, this elastic style is a lot lighter to wear than the chunkier ones I own. However, the satin elastic is rather sturdy. For work I have to wear a lanyard and having worn this choker several days in a row along side my lanyard, the elastic shows no signs of wear despite being rubbed regularly as I moved around throughout the day. For those who aren't a fan of gold tones, Karolina has also added a silver version to her shop.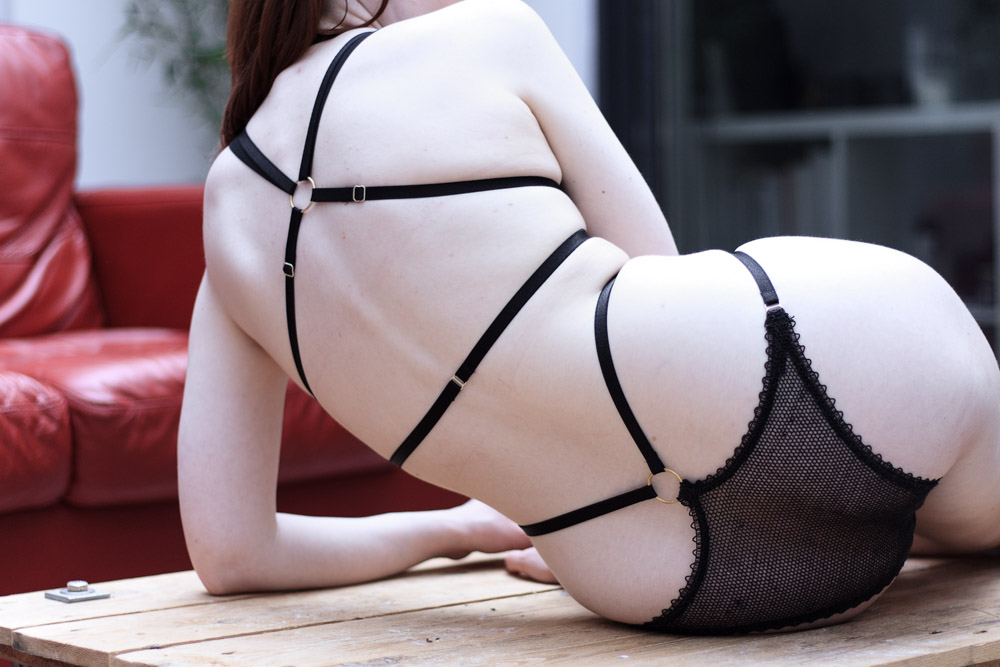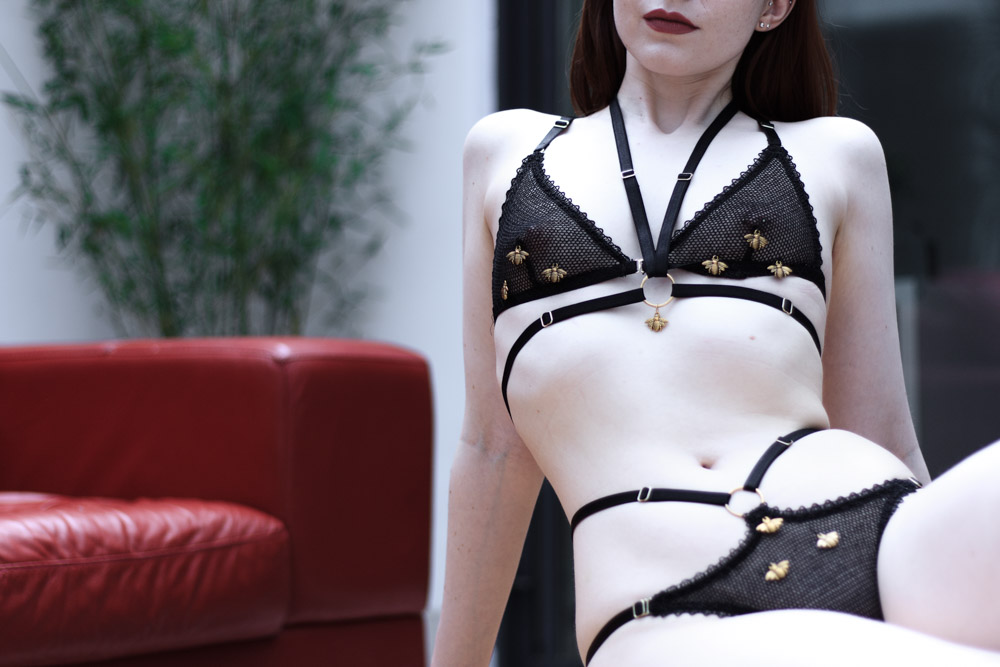 The Miód knickers are a low rise style made with more of the bobbinet tulle and trimmed with more of the frilled elastic. The gusset is made from cotton and four fully adjustable straps of the satin elastic, two on the low hip and another two around the hip bone, allow for full sizing flexibility. Three more little bees decorate the centre front. They are incredibly comfortable and a joy to wear, although are kept for days when I'm not working, as I'm scared I'll end up pulling off one of the bees while moving equipment.
Last but not least, the harness. Made from more of the satin elastic, the oversized o-ring complete with little be sits perfectly in the centre of the bra and fastens with another swan hook. As for someone who isn't over the strappy trend yet, it really takes the set up a notch. This set is truly wonderful and I'm so pleased to have it in my possession.
Karonlina recently released some behind the scenes shots of her new collection and I am SO excited, just from these images I can tell she's already outdone herself.