NOTE: the Janine Knickers are now in the Leaving Soon section of the Hopeless website. You better get moving and snap them up quickly before they are gone!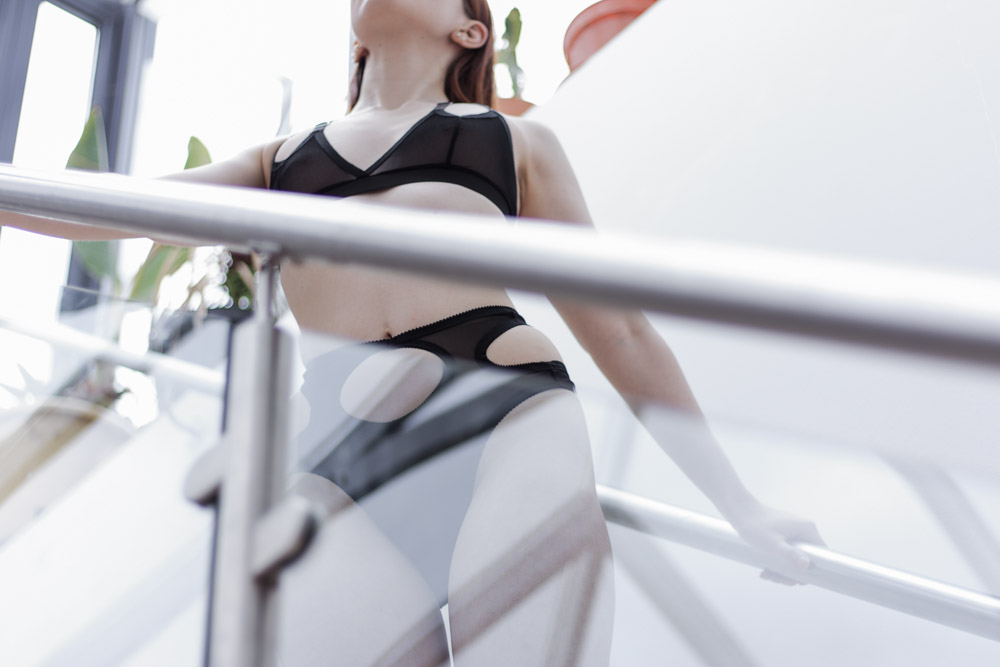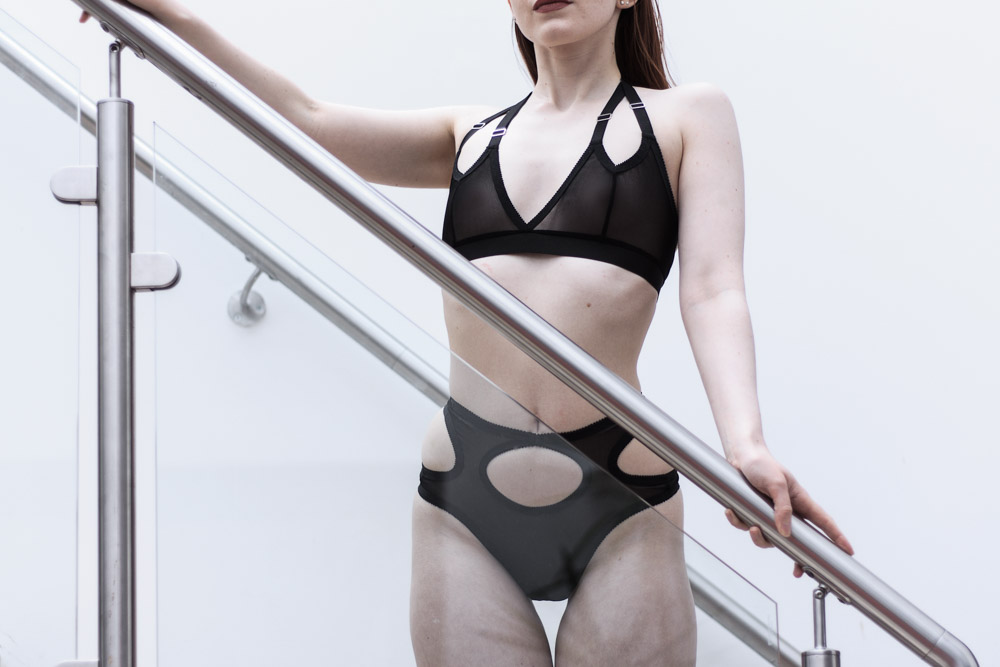 Since my last Hopeless Lingerie post, I've decided to try and post any new bra and brief pieces from my collection as "sets", in order to minimise the amount of Hopeless fangirling that appears on my blog. Hopeless Lingerie is my number one lingerie brand and I have to admit, stopping my blog from becoming an appreciation site for Gaby's designs has been somewhat difficult. I adore her dark style, graphic cut outs and classic mesh fabric. Two pieces that truly embody this aesthetic is the Lucy Bralette and Janine Knickers. Back in July of 2014 (if my source is correct), Lucy was released in part 4 of the Tenebrae collection and has since become a classic piece.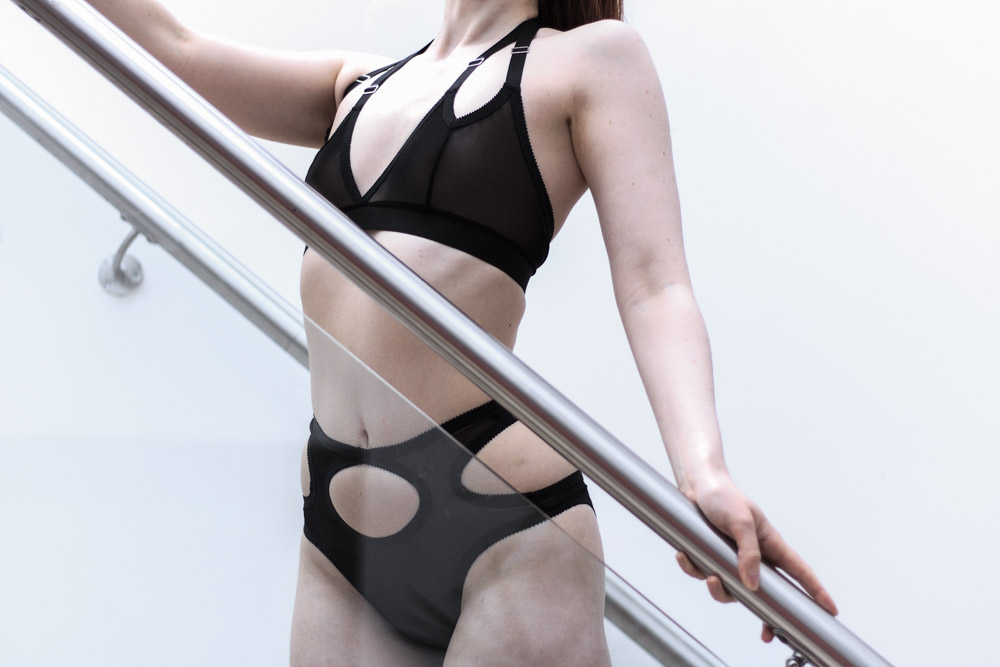 At the time I was moving away from moulded/padded bras and generally feeling more comfortable with my natural shape, so I snapped up Lucy thinking it would be ideal for my petite bust and I was not disappointed. Purchasing my usual size XXS, it took about 5 to 6 weeks to be made in Gaby's little studio in Australia, before taking a week to make it's way over to me in the UK.  Lucy is a halter neck style, with four fully adjustable Japanese elastic straps that fasten at the nape of the neck with a swan hook. It has a heavy elastic underband for extra support, meaning that this bralette is not only suitable for a small bust like mine, but it will also offer some support for those with a fuller bust, especially when combined with the halter style straps.
This was my first experience with a bralette from Hopeless that has a hook and eye closure and even though XXS size is designed to fit a 27″ underbust and mine measures in at 28″, the elastic is quite stretchy and I have to wear this bra on the tightest hook in order to get the tight fit I like. For whatever reason, I like my bras to fit very tightly, which some may find uncomfortable. Nearly all the bras I own are worn in the tightest hook. While Hopeless' measurements are true to size, do take how you like your bras to fit into consideration when ordering and if you are between sizes, definitely size down if you like a tight fit. Custom sizing is available, which is especially great for those of a fuller bust but small underbust. Shape wise, keeping the adjustable straps tight gives me a roundish natural shape. Although making them too tight can sometimes result in the swan hook at the back of the neck popping out of place while I move around, especially at work. Unlike my Stella Bralette where the cups sometimes wrinkle and need adjusting, the cup shape and halter style of Lucy is perfect for my shallow bust and doesn't to be fiddled with throughout the day. I love how versatile this bra is for layering with outfits but I especially love how well it works with other Hopeless pieces, like Stella.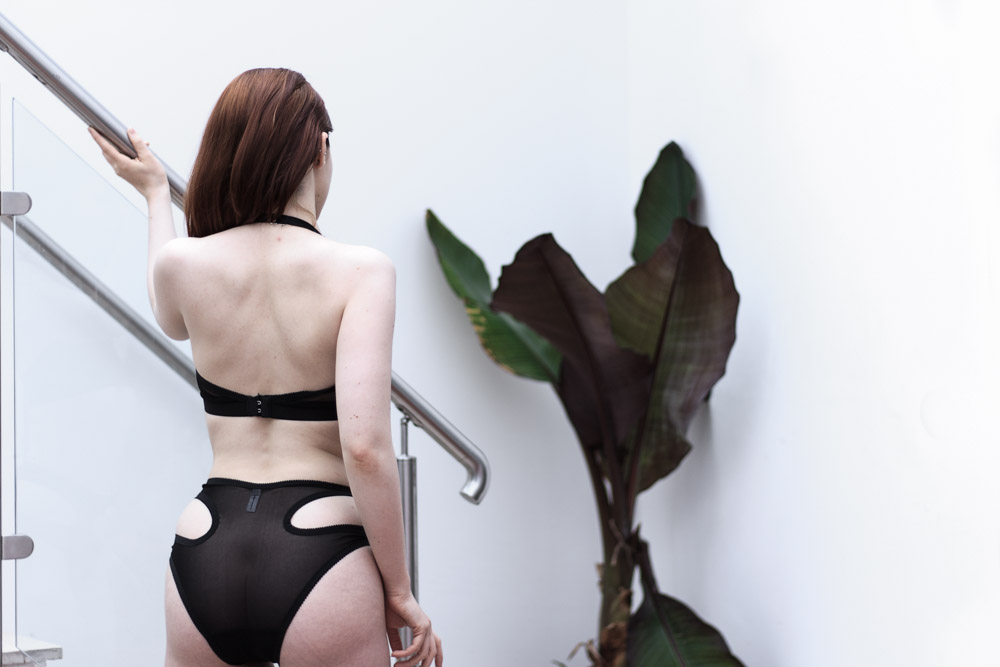 The Janine knickers were also ordered in my usual XXS size and are the first pair of mesh knickers from Hopeless I own that doesn't have any additional strap details. My initial feeling was that they looked smaller than my bamboo briefs, like Phoebe but I assume they are cut smaller to compensate for how much stretch the mesh has and they fit true to size. The edges are lined with the same Japanese elastic as Lucy and have a bamboo gusset. They are incredibly comfortable and unlike some cut out styles that insist on digging into the soft parts, I love how the Japanese elastic is very soft, stretchy and lies perfectly flat on my hips. When discussing fit with my friend D of LIN/GERIE, we noticed that whilst my pair stretches up to just under my belly button – as does the pair on the model Avalon – D's don't. D has a longer torso than I, whereas I have long hips and a short waist, so even though the pair of us have very close body measurements, the brief fits us both differently. The human body is a weird and wonderful thing but both of us find Janine to be a great combination of comfort and style.
Both Lucy and Janine are available in sizes XXS(UK6) – XXL(UK18) as well as custom sizing.
Instagram // Twitter // Pinterest // Bloglovin'