Creepyyeha is a creative force and if you aren't yet aware of her name, you will definitely be aware of her designs. With many "designers" trying to greedily ride her coattails to money and success, poor copies of her work keep cropping up all over Instagram and eBay. While I am aware that nothing is truly original anymore, to blatantly rip off someone's brand in the hopes of making a few bucks is poor form, especially by those who also call themselves independent designers.
As someone who is a firm believer in the "you get what you pay for" mantra, Creepyyeah is worth saving your pennies for, so you can invest in and support her business. Remember, there is a difference between a want and a need and a tutu garter belt is not a need. If you truly love the design, save your money, regardless of how long it takes.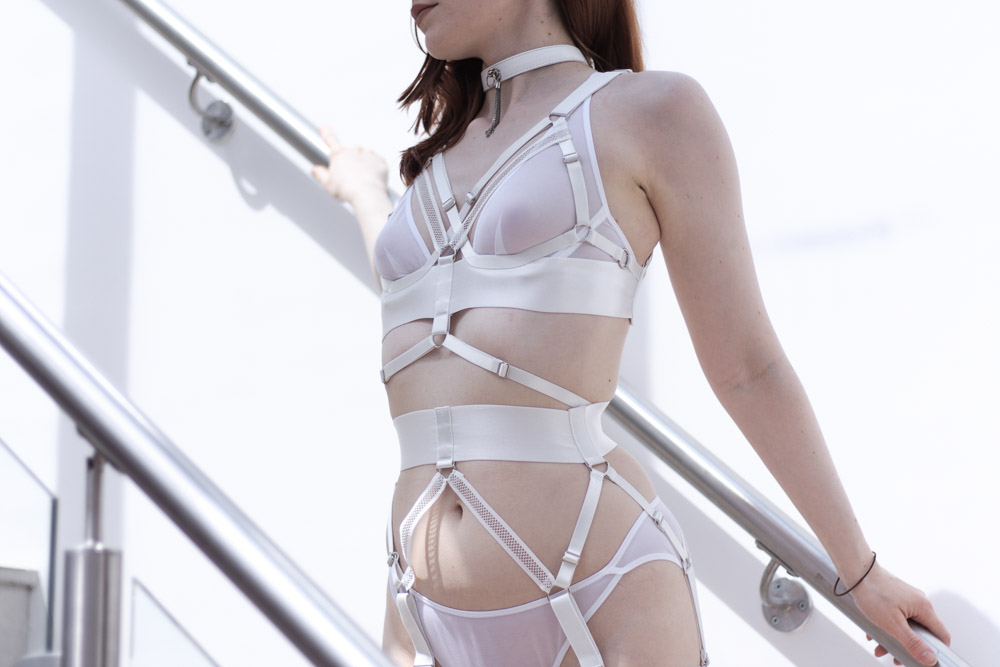 Moving on, white is a colour I've been adding more of to my wardrobe and thus I've been looking at adding more white to my lingerie collection too. Ravish Me was right up my street, with it's additional strapping details and distinct lack of bridal elements often found in white lingerie.
I ordered the set in the XS size, sans bows. While I do consider myself to be feminine, I don't align with girly and as a result I'm a bow hacker. Many a set has seen it's additional bows mercilessly removed because they just aren't to my taste.
I like how the set takes on a slight sporty vibe with the bows removed thanks to the decorative mesh elastic. D and I ordered 7 items between us (greedy, I know) including this set and it took 12 days from the initial order till postage, which is the minimum estimated time frame (the max being 7 weeks). By ordering both the bra and suspender together, you can save $20 on your order. Each piece individually is $110 but discounted when ordered as a set.
When I paired this with my la fille d'O for the first time, I did notice that the colour is more natural white than a true pure white. This is by no means a complaint, merely an observation.
The bra is an open cup style with two fully adjustable elastic straps on either side of the breast. In the middle of the bust there is a sliver D-ring that the mesh elastic attaches to in order to frame the bust. A second D-ring sits parallel to the first, where two adjustable straps of elastic frame the rib cage and fasten with a silver swan hook. The underband is made from thick satin elastic and closes with two rows of three hooks and eyes.
The XS is designed to fit a 30″-32″ underbust and mine measures in at 28″, meaning I do have to wear it in the tightest hook. As with most independent designers, each Creepyyeha item is customisable, however I chose to go with the standard size as I wanted to be able to layer it over other items, so the extra couple of inches in the underband isn't an issue. Despite all the additional straps, I find this bra comfortable enough to wear all day thanks to the soft elastic and many adjustable elements.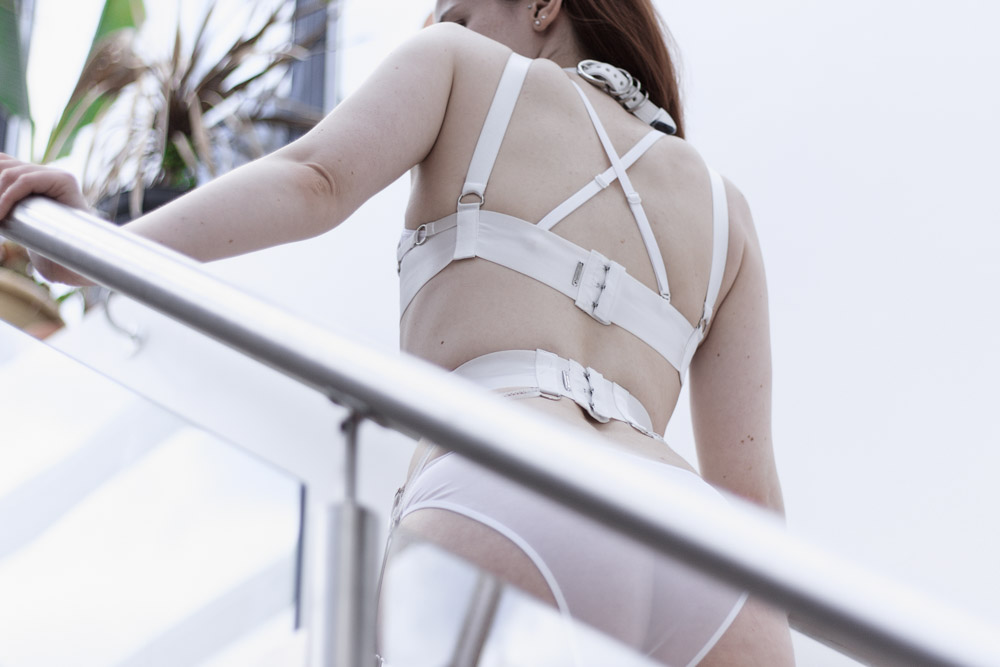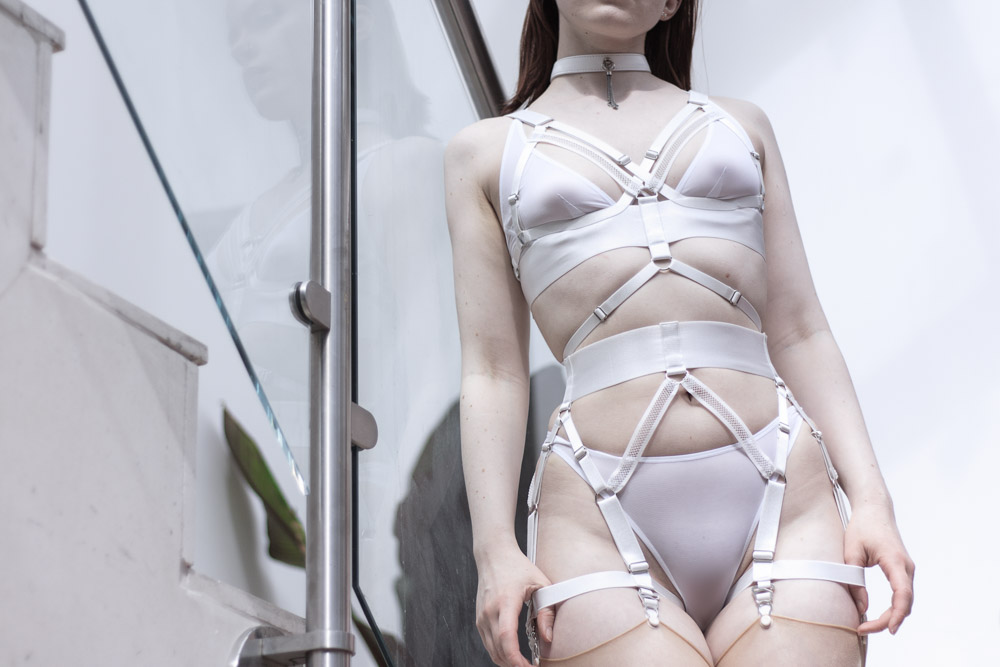 The suspender has a matching thick satin elastic waist band and closes with another two rows of three hooks and eyes. There are two fully adjustable straps either side of the hip, curving round to join two thicker elastic straps that attach to the thigh garters, which again, are completely adjustable.
Each garter has two suspender clips, one on the front and one on the side. These are removable thanks to being attached by swan hooks, allowing this suspender to be worn as a harness without the clips hanging about and getting in the way. I would recommend wearing hold ups instead of stockings as there is no clip on the back of the garter, making the inside and back of my stockings slide down while walking around, meaning regular readjusting.
However, the clips Yeha uses are strong, so despite there being some migration on the stockings, the clips hold the sections they are attached to firmly in place and didn't pop off when put under strain.
Again, the suspender is incredibly comfortable and thanks to the heavy elastic used for the waist band, the suspender remains firmly in place and isn't dragged down by the stockings when they migrate. It's safe to say I am now pretty desperate to get my hands on more of Creepyyeha's designs, after buying a belt and some of her elastic pieces, I think it's time to save for some of her heavier metal based designs.
Wearing with: la fille d'O Fast Girls bra and Got It brief, which I'll review at a later date.