When Karolina Laskowska announced her intention to release a range that could make or break her business, I decided I would do what I could to support her. Her passion for lingerie and the love she puts into her work is truly inspiring and I would hate to see her business disappear. Her choice to invest in a ethical factory run as a small business is a gamble. On the one hand, she was able to half the cost for the customer by ordering this factory run, compared to what it could have been if she had hand sewn it herself. However on the other, with such a high minimum order, it was a massive risk for Karolina to take using her personal savings. To read more on her decision to invest in factory made items and what it means to her business, you can check out her blog post here.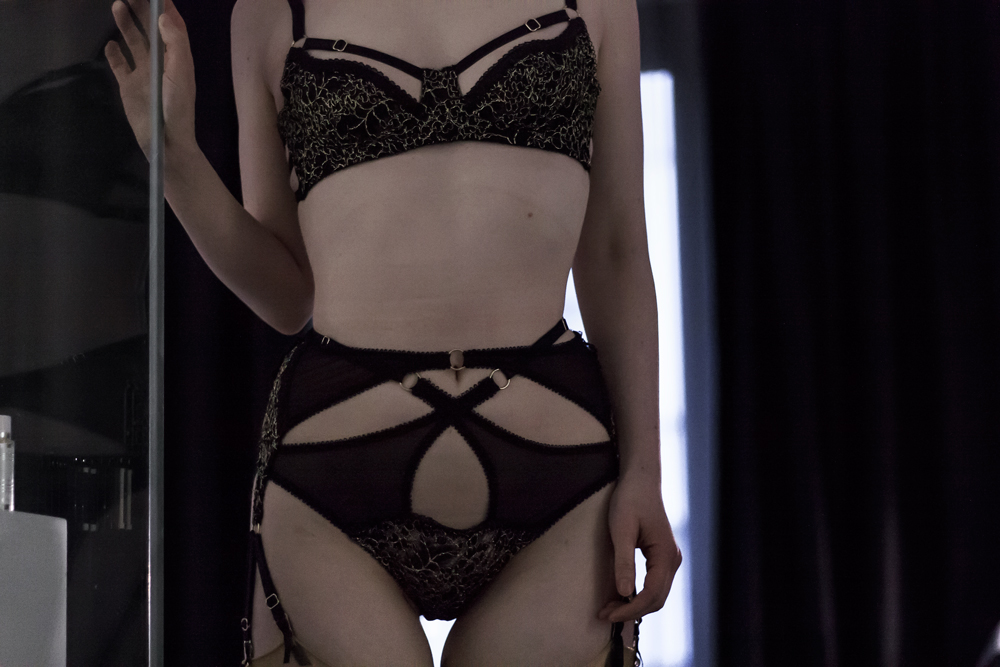 Despite the option of a discount code when I ordered, I chose not to use it so that Karolina would receive the full amount (she did add a little choker to my order when she noticed I hadn't used it, which was sweet of her). Ara is a beautiful set made from English leavers lace, with a gold floral thread design. The satin elastic used in the set is also made in England, with all the metal components gold plated. Cost-wise, the bra comes in at £92, the suspender at £68 and the brief at £50, which is really rather reasonable, considering all the adjustable elements and high quality materials.
The bra is a cut out balconette style, the cups trimmed with more of the English leavers lace and uses adjustable elastic straps over the bust. Three adjustable straps of elastic make make up the wings, allowing a custom fit and fastens with three sets of hook and eye closures. The cups are lined with what appears to be the same mesh used on the brief and suspender, which makes them feel quite sturdy in comparison to other unlined bras in a similar lace that I have tried. I feel I can actually wear this bra for everyday wear and not just assign it to the "not at work" pile. As I've mentioned in previous posts, my job involves a lot of moving around and lifting, which can be quite abrasive on delicate items. I have worn both the bra and the brief to work several times and the lace has remained intact. The lining is also great for those who are pierced as it stops my nipple piercing from attempting to make a bid for freedom through the gaps in the fabric, meaning I can wear this bra happily knowing that my choice in body mods won't destroy the beautiful lace. I have to admit, I was initially a little sceptical about the fit of the bra. I ordered the size 6 and the size chart states that it fits sizes 30C/32B/34A/36AA. While these sizes are all sister sizes, I know for a fact that a 34A does not fit me in the slightest. Karolina's knowledge of construction proved me wrong however and I find Ara to be one of the best fitting bras I've ever owned. After playing around with the various straps, I was really impressed with the fit. It rounds out my shape, gives me lift and also feels supportive. Even my partner was quite impressed with how I look this bra. However, due to my 28″ underbust and petite size, I still have to wear the bra on the tightest set of hooks.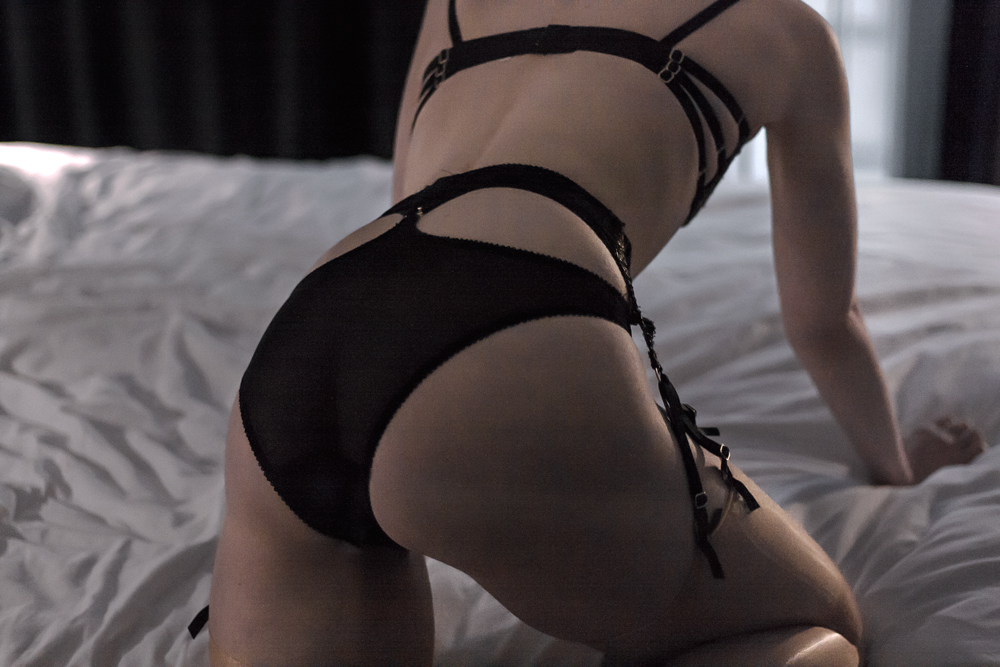 While the bra fits almost perfectly, the suspender is so generously sized that I sadly can't wear it. I ordered it in the size S (UK8-10) and according to the size chart on the site, a S fits from a 24-25 inch waist. I have a 23-24 inch waist, depending on how my body feels like behaving, so I took the risk and ordered it. While it does state in the product description that it is a generous fit, the suspender fastens with three sets of hook and eye closures that I hoped in comparison to other suspenders, wearing it in the tightest hooks would be perfectly fine. Unfortunately for me, the suspender is just too generous at the waist and gets pulled down my hips when worn with stockings. I have been meaning to email Karolina to find out if she thinks a tailor can alter it but for whatever reason (laziness) I haven't got round to doing it. If you buy the suspender I would definitely recommend sizing down. It is a six strap style so I imagine when wearing a firm fitting size, it will keep your stockings in place. However, despite the fit problems, the design itself is beautiful. The unique shape is what really makes this piece and I really love how it looks on me when combined with the briefs. It's just how beautiful this piece is that has made me keep this suspender with the intention of getting it altered instead of sending it back when I found it didn't fit.
The description for the brief also states that it is generous in size but I find them to be true-ish to size, if only slightly bigger. Again, I ordered the size S and due to the adjustable straps that cross over the hips, they can be tightened (or loosened) to fit perfectly. The majority of the brief is made with a stretch mesh with a lace panel and the gusset is lined. Not only do they look fantastic on, they are incredibly comfortable to wear.
Karolina has mentioned on social media that this set is getting close to selling out, in fact she is close to selling out the size S in both the Ara and the Carina styles so if you want to get something I would suggest you get it soon!
Wearing with: Tamzin Lillywhite Leader Choker
Instagram // Twitter // Pinterest // Bloglovin'