It was this set from Playful Promises that finally broke my lingerie abstinence last year. Previously only available in the full bust range, there was much demand for it to be released in core sizing, which Playful Promises diligently obliged. Juliet is a playful, retro inspired set with a minimalist twist; both dark and romantic.
After seeing a photo of Tessa Kuragi wear it, I purchased it impulsively. Normally I refuse to give into the desire of impulse buying, but maybe it was because I had gone so long without a lingerie purchase or perhaps that I wanted to try and capture a little of the self assurance that Kuragi oozes for myself, that it came to be in my collection. I feel fierce as hell in this set, so I guess I can forgive myself this one time.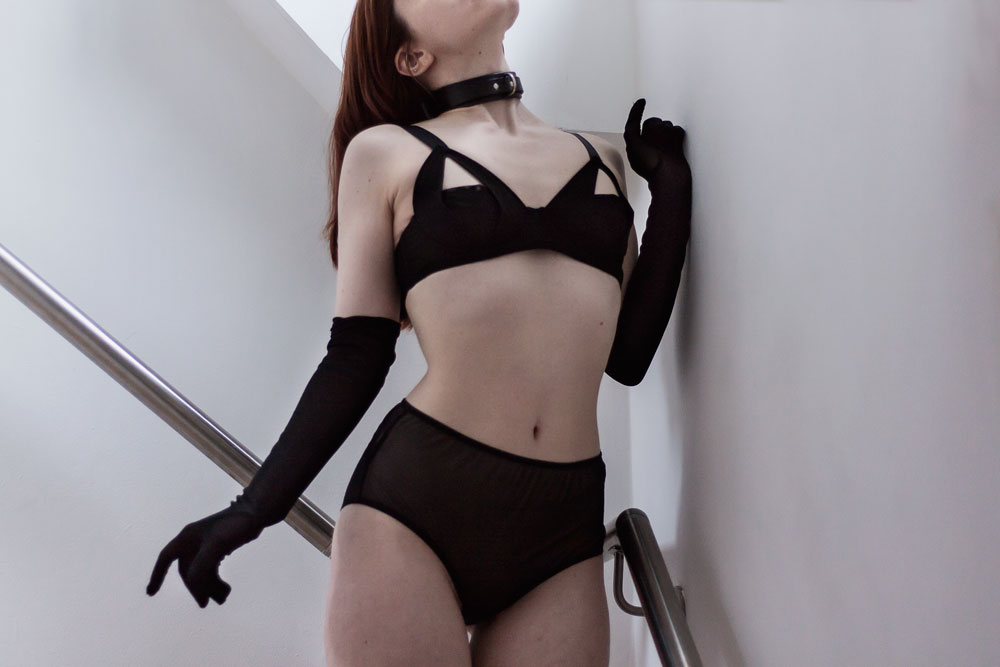 I ordered the bra in my usual sister size of 32B, which comes with a separate elastic harness. While the harness is fully adjustable, it is sadly a little bit too big for my petite torso, even when fully adjusted. It only really works when worn around my underbust. However, the fact that the harness is completely removable and can also be worn separately from the bra is a nice touch.
The bra is made from a sturdy black mesh and closes with three sets of three hooks and eyes. The half cups are unstructured but underwired, with two additional mesh panels. Starting at the base of the cup and joining to the straps, they create a peekaboo key hole which helps solidify the vintage feel. When the first reviews for the fuller bust Juliet were released, many noted that the cups are shallow and the same can be said for the core size. As I am shallow busted, the lack of depth is actually quite beneficial for me and it feels like a good fit. However, someone with a fuller or heavy on top bust might have some minor fit issues. Shape wise, the cup does compress my breasts and rounds out the shape, but only when worn under heavy or loose clothing. Under tight clothing the shape can be a little distorted by the additional panels of mesh, causing them to look a little lumpy. My preference is to combat this through wearing sheer clothing, both showcasing the bra's design and clearing any confusion as to why there is some additional folds on your bust.
The straps are thicker than usual for a core sized bra, but if they had been any thinner I don't feel they would have complimented the design. Due to the connection of the mesh panels, the straps are only partially adjustable with a gold toned slider and as usual, a 32 back is too big for my 28″ underbust. This means I have to wear it in the tightest set of hooks, however the band is quite sturdy and holds well. Due to the nature of the mesh, it has very little give and when fully stretched I found that the band can only comfortably extend to about 31″. As someone who prefers a study and tight fitting underband, I find this to be one of the better fitting 32" backs in my collection.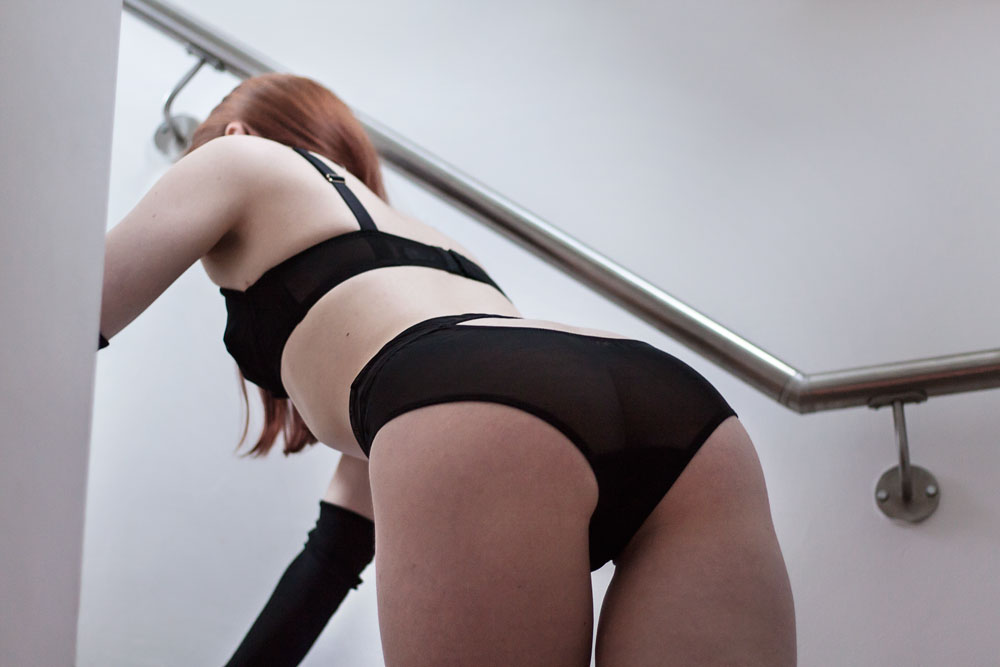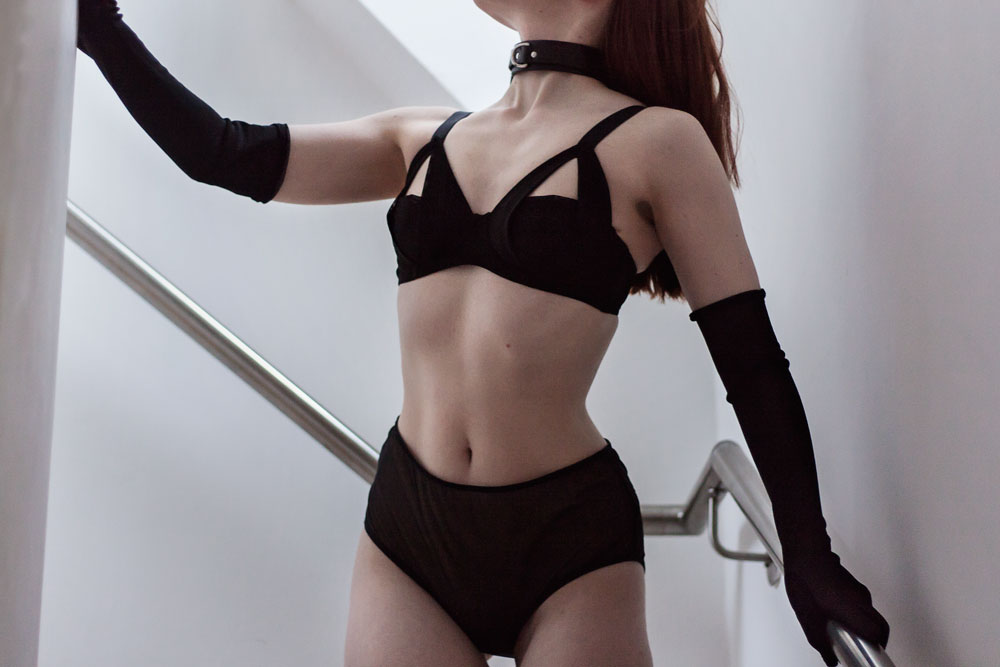 The briefs are a high waisted style, made from black mesh and have a jersey lined gusset. The mesh used for the brief has more give than the mesh on the bra, meaning they have more of a generous fit. I ordered them in an XS(UK8) and due to the fit I could have sized down if the option was available. They feature a key hole cut out at the base of the spine, echoing the keyhole cutouts on the bra. This cut out has been executed perfectly. To be frank, the lower section comes up high enough over the crack that it doesn't cause any discomfort or the feeling that your knickers are slipping down leaving your butt exposed, much like a builder. They are incredibly comfortable to wear all day and I find myself reaching for them to pair with other mesh bras that I own.
Playful Promises have recently released Juliet in red for your colour lovers out there and it's equally as fabulous as the black!
Wearing with:
Fleet Ilya Choker and Bettie Page Lingerie Mesh Gloves
Instagram // Twitter // Pinterest // Bloglovin'