This post has taken me ten months to write. Discussing my thought process behind every purchase I make has been something readers of mine have expressed interest in for a while. Despite starting this post forever ago, I've struggled to put my thoughts into words. My collection has become such a reflection of myself and my personal aesthetic, it has been difficult to pin down something that mostly comes naturally to me. After months of angrily staring at a computer screen trying to write this post, I've managed to finally break it down.
The word curating might be a bit of a funny choice to use when discussing buying pants, but that's how I view my lingerie collection. It is a lovingly curated drawer of beautiful items that are not only wonderful pieces of design, but are also an absolute joy to wear. This hasn't always been the case however. As mentioned in my transparency post, when I first got into lingerie I bought anything and everything I could get my hands on. There was no structure or cohesiveness to what I bought and the buyers regret was real. Many of the pieces I bought in my first year of collecting are no longer in my drawer. At first I called myself a lingerie addict but I've since moved away from that concept. I'm not addicted to lingerie, I appreciate it's beauty but I don't need it to get me through the day. This mental shift allowed me to revaluate my spending habits, what my collection actually says about me and have it be something I'm actually proud of. All (well, nearly all) of the pieces I add to my collection are evaluated, agonised over and slept upon before I hand over them card details and make that purchase. Below are some rules I've developed for myself since I started collecting to give you an idea of what goes through my mind every time I buy and help keep my collection cohesive. Hopefully you will find it helpful as I have, and as always, if there is something you think I could have covered, please let me know.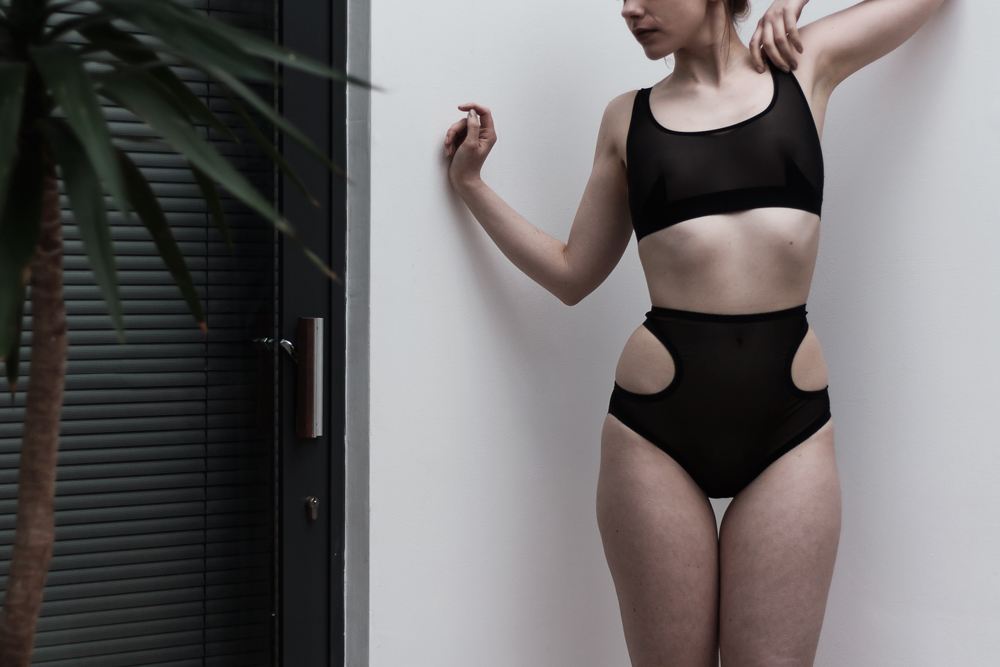 1. Having an over arching theme to my collection
When I decided my lingerie drawer had grown out of control, I employed the capsule wardrobe concept to help get it back under control. I started with a base theme for my collection, removing all of the pieces that didn't complement this theme and in some cases, getting rid of items that I no longer cared for. This helped to streamline what I already owned and gave me a solid base to build upon. If you haven't guessed by now, my main theme is black, mesh and minimal, just like my outerwear wardrobe. Thanks to implementing this theme many of my pieces compliment each other, such as the la fille d'O bra and Hopeless brief in the photo above. Both are made from black mesh and match each other perfectly despite being bought separately from different brands. When adding new pieces to my collection I ensure that they compliment at least one other item I already own. This doesn't mean other statement pieces that I love can't be added but having an overarching theme will help create a cohesive collection and stop me from buying things that I will later regret.
2. Buy less, buy better
While I am more likely to get use out of a lingerie collection than say a stamp collection, I only have one butt. There is no need for me to buy everything that takes my whim. I do not need to buy things to make myself feel whole or to try and keep up with others. There is no point in me buying that blue set which captures my attention on first view, as I know I grow bored of colourful items after a few wears. Therefore, I like to save and invest when it comes to the items that I wear. By buying better quality, I won't have to replace lower quality items that are prone to falling apart as often. Not only that, it also supports many wonderful designers and their businesses, helping pay a fair wage to their workers. Buying only one piece of ethical lingerie every so often still makes a difference. By investing in my collection I've accumulated items that will last me a long time and allow me to enjoy them for longer.
3. Create a wishlist and stick to it.
In order to keep track of my wants and allow myself time to dwell on whether an item is worth adding to my collection, I've created a wishlist board on Pinterest. Quite often I'll pin something that catches my eye onto it and let it sit for a month or so. If I still want it after that time, I will then make the purchase. If I don't, I simply remove it from the board, feeling glad that I didn't spend my money on it and can instead invest in another piece that I truly want. Having this wishlist is extremely helpful when sale season comes around. If I didn't care about the item enough at full price to put it on my wishlist, then to me it's not worth buying at sale price.
Having a wishlist might even help you assess whether you just like or truly love an item. During the most recent Agent Provocateur sale, a handful of items I had my eye on were reduced but when I looked at my board again I saw there were items on there I loved more. In the end I decided not to purchase the items from AP, choosing instead to save my money for those pieces I truly loved.
In addition to my wishlist, I've set up a collection board to allow myself to cross reference items I'm considering purchasing without having to rake through the many black sets in my drawer, ensuring that it will fit in with what I already own.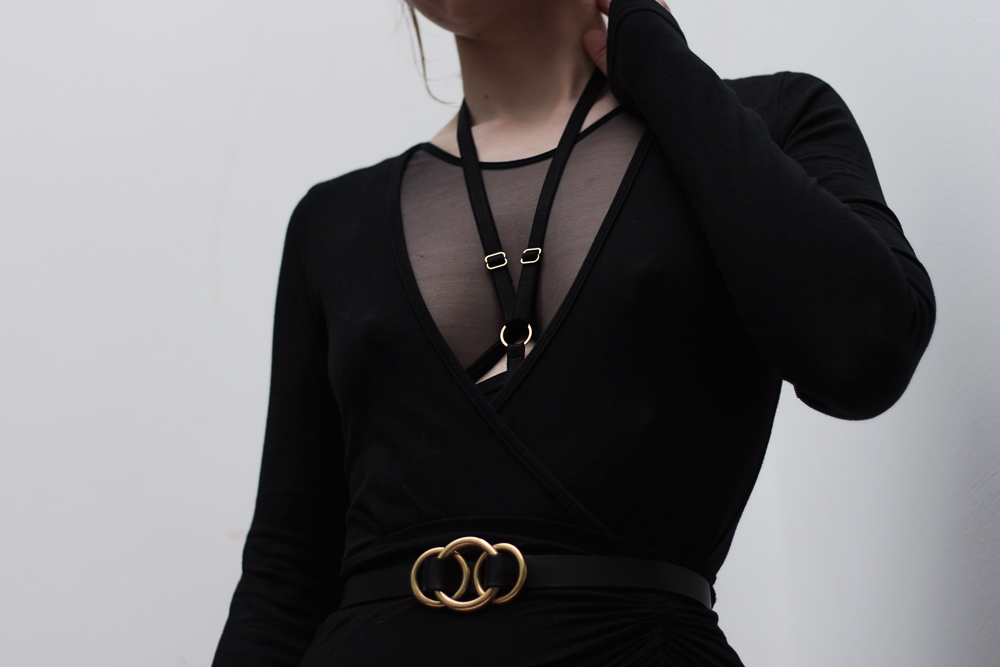 4. Is it practical? Is it wearable? Is it beautiful?
Being realistic about my lifestyle has completely altered how I buy. If, like me, you spend a lot of time at your manual labour job, mostly wearing tights or jeans to said job, do you really need that additional suspender belt? Will those delicate leavers lace knickers get damaged under your jeans as you move around at work?
"Is it practical? Is it wearable? Is it beautiful?" are the three questions I ask myself before making a purchase. As I'm constantly moving and lifting objects around at work, my body twists with each movement, causing the fabrics of my clothes and underwear to rub together, damaging the more delicate lace items. Thus more practical fabrics like jersey and mesh come into play. Personally I find that my job is less strenuous on bras than it is on briefs, so I'll often buy the bra from a set I like but not the brief.
Being realistic about what styles work for me also changed how I buy. If you already know a certain style of bra/brief/suspender etc does not work with your body shape, there is no point in continuing to purchase those styles in the hope that this time you can make it work. For example, due to my shallow shape I know that moulded balconettes and push up styles just do not work for me and so there is no point in buying those styles, regardless of how much I like them.
Then there are those times when an item is just so beautiful and excites me so much that I just want to own it. This is where the idea of lingerie collector truly comes into play. While it might be neither practical or wearable, if the privilege to own, look at and wear it for a short period of time gives me joy then I'll purchase it. Karolina Laskowska's recent collection contained laces so beautiful that I ended up purchasing them despite not being that wearable for my day to day life.
5. Make it work for outerwear
One of the main things I consider when buying something new is how I can make it work for outerwear. Being able to work a new piece into an outfit not only makes it more value for money but allows me to show off some of my favourite pieces. Diversifying the types of lingerie pieces I buy has made this easier. Investing in bodysuits, robes, chemises and teddies as items to not only wear as loungewear but as outerwear too.
Really what matters is that you buy what makes you happy. My collection's theme may be black and minimal but if pink and floral is more your thing, go for it! Lingerie is great for expressing yourself if you are restricted by a uniform or social expectations on a day to day basis. Be sure to buy things you love, ignore what others are doing or what the current trends are and buying items that truly represent you will make you feel much more comfortable than trying to fit to someone else's standards.

What are some of the thoughts you have when buying a new piece of lingerie? Do you follow a similar set of rules or have a completely different approach to your choices?
Wearing:
Image 1: DSTM Maya Bra, Hopeless Lingerie Kelly Knickers, Boohoo Mesh Bodysuit, Creepyyeha Tahliah Belt
Image 2: la fille d'O Real Cool and Hopeless Lingerie Phoebe Knickers in mesh.
Image 3: la fille d'O Need Shiver, Karolina Laskowska Lidia Harness, American Apparel bodysuit, Tamzin Lillywhite Leader belt
Instagram // Twitter // Pinterest // Bloglovin'