Almost exactly a year ago, I was gifted my very first Maude Nibelungen piece. It was the Mock Top from her debut boudoir collection "Bleu Nuit" and was a birthday present from my girl Deems. Then earlier this year I was lucky enough to win a voucher in a joint give away between Maude and Evgenia Lingerie to celebrate both brands reaching ten thousand followers. The Alice set was high on my wishlist so I of course used this voucher to purchase it. Currently, I own four pieces in total from Maude and yet I still hadn't written a blog post dedicated to her brand until now, despite her being one of my favourite designers. Truth be told, I find it difficult to write blog posts regarding brands that I absolutely adore. I just feel I am unable to think of anything else to say other than "this is amazing, I look amazing in it and you will too, okay?"
During a trip to Prague in September with my partner, I decided to photograph my collection together, creating a teeny lookbook of sorts and hoped the words to describe how much I love Maude's work would come naturally after.

Maybe it's because I'm reading less due to my current obsession with podcasts (and I do tend to write better when I'm reading a lot) or possibly due to the dark nights sapping my creativity but the words for this post still seem to want to stay inside my head and not come out. Or it could just be that others have written posts about her work that describe it so perfectly that I'm struggling to add anything new to what has already been said. I spent a long time agonising over what to write before reminding myself that this blog is first and foremost a personal blog, not an industry blog and I can keep it as simple and personal as I like.
So the long and short of it is a love for Maude's work. I love her aesthetic and creativity. I love the imagery she creates. How she styles both her pieces and the pieces she owns from other designers. I love how my Heart Warmer jumper keeps me incredibly warm without compromising on style, whilst my Alice crop top still looks perfect even after catching it on something while out for drinks and that's all thanks to the texture of the knit. If you are thinking of investing in some ethically made, hand knitted pieces to keep you warm this winter I highly recommend investing in one of Maude's creations, as the truly are works of knitted art.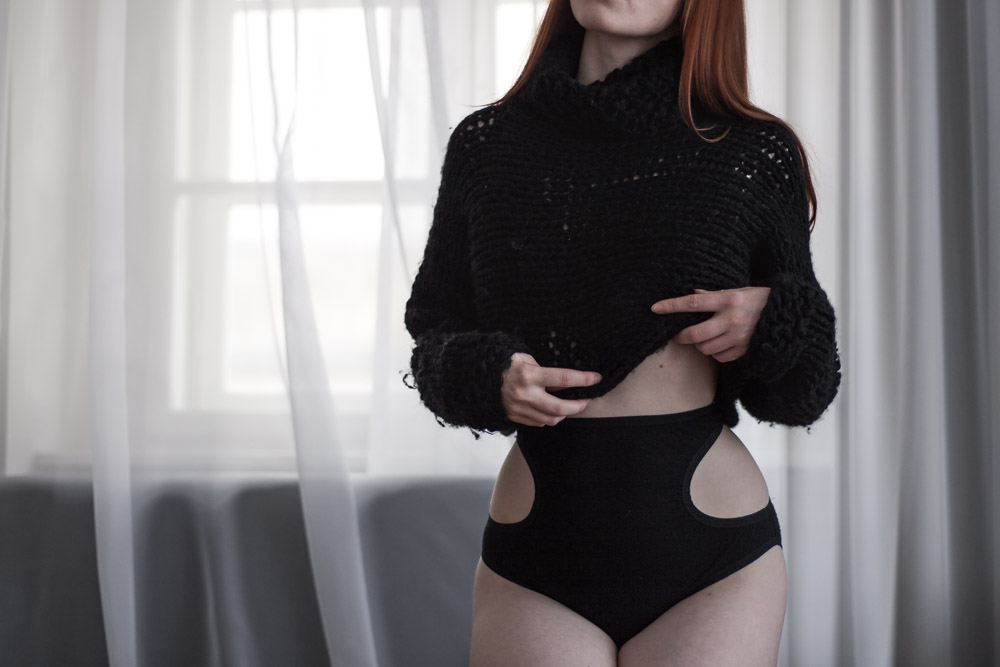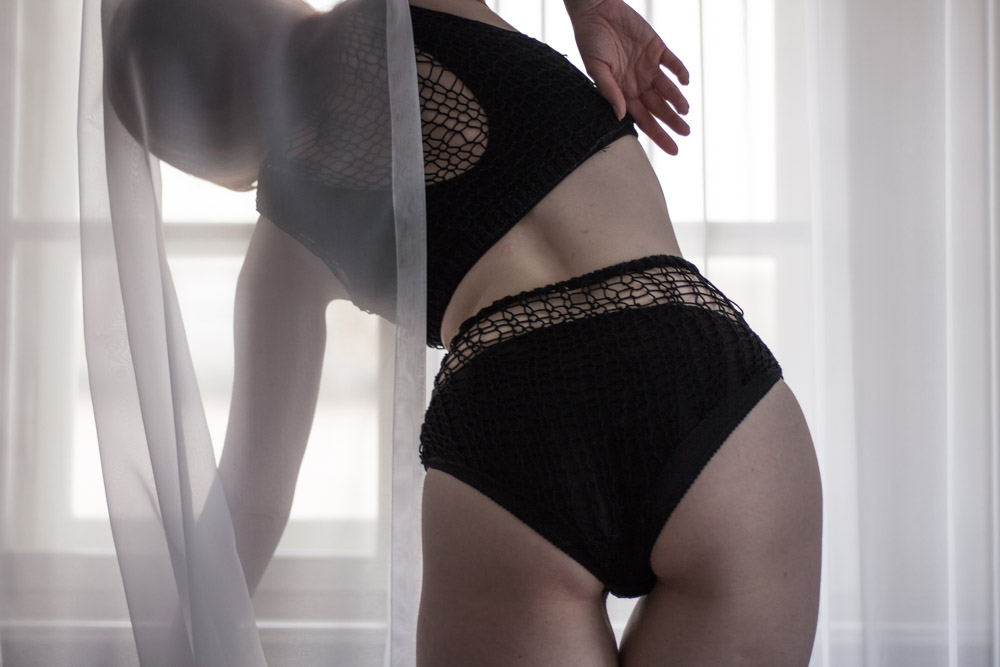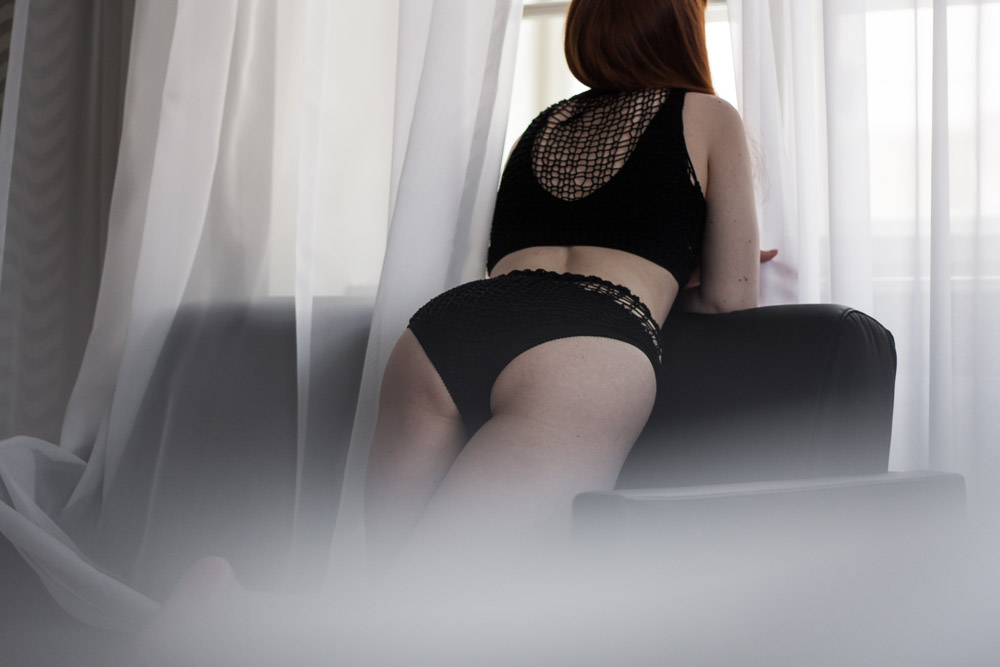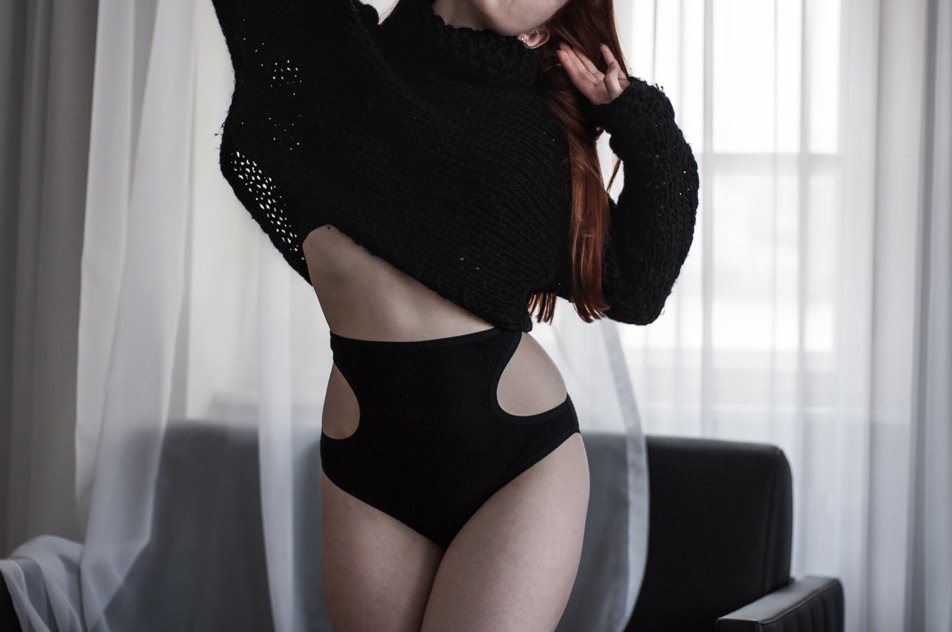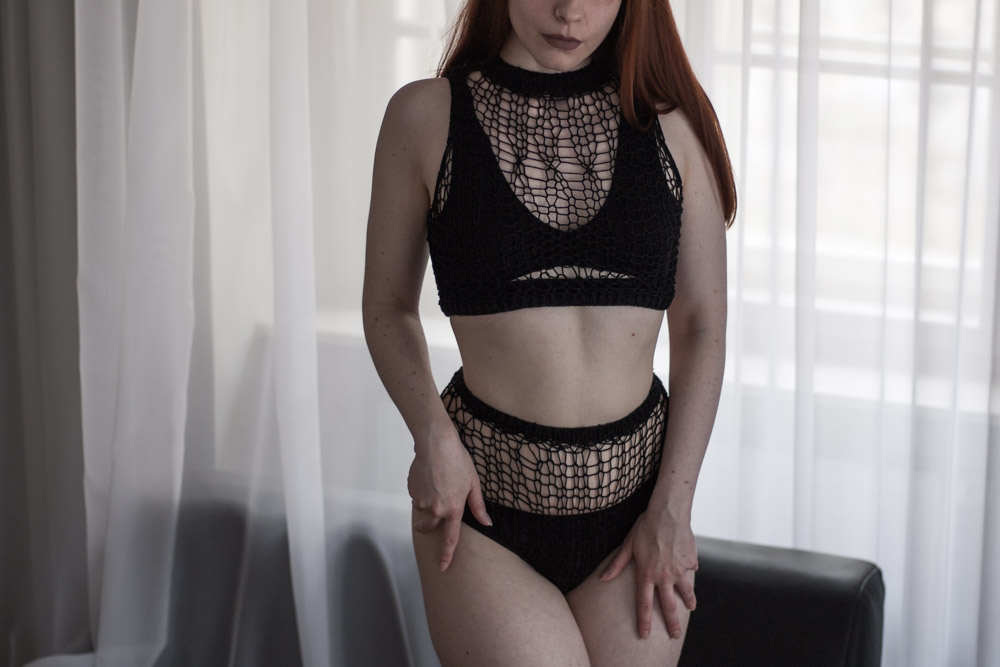 The lookbook for her most recent collection "Grey Area" features the beautiful Wen of Comics Girls Need Bras, a fellow lingerie blogger from Montreal. If you haven't yet checked out her blog I highly recommend that you do, especially if you have a fuller bust.
Grey Area is described as "a bridge between minimal design and refined detailing, distressed textures and luxurious fibers" and is truly next level. Minimalist style rib knits sit a long side complex, almost lace like textures, redefining how many people perceive knitwear.
I'm pretty much convinced that Maude is some kind of knitwear witch/magician and that's why her brand is one of my favourites and I look forward to seeing what she creates next.
Maude Nibelungen Mock Top (no longer avilable) with Hopeless Lingerie Kelly Briefs
Instagram // Twitter // Pinterest // Bloglovin'